4 Tips For Choosing A Teether For Your Dog
Dogs that live in small houses or are already very old often live a very sedentary life. Using toys can be a good incentive to get them started and get them out of boredom. A teether for your dog is the ideal choice for entertaining when staying alone at home.
At the stage of growth of the dog it is also important to maintain a physical activity in which the master and his puppy are involved– this will enhance the bonds of friendship between the two. If it is a teether for your dog, they can strengthen their teeth while playing.
But before going to the pet store for a toy for your dog you need to keep in mind certain aspects; even if they seem obvious, sometimes we overlook them and they will help the dog enjoy better.
Find toys that are safe
When choosing a teether for your dog please note that those made of plastic tend to break more easily and can damage your dog's mouth. If you are looking for something durable, a clean and large cow bone is the solution; these products are edible, durable and, because of their size, cannot be swallowed by the dog.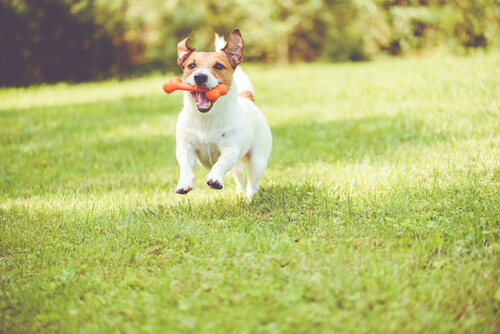 If you want to play more actively with the can, it is advisable to choose a tennis ball. We must be aware when the dog uses it, because if it is broken you must remove it from the mouth of the dog.
It should be remembered that golf balls are not at all indicated, because they are small and are released with toxic substances harmful to your dog.
Buy toys at a pet store you trust
It is also important that you read the tags that the toys bring to give proper use of the teether for your dog. Never consider buying any toy that has parts that can detach and drown your pet.
Choose a teether for your dog suitable for his age
As with children, dogs need special toys that adapt to their needs in their growth stages. You can give them a special cubs, because they love to bite and try everything they find.
Also, if you choose a soft, fiber-filled toy, it can relieve the gum discomfort that puppies often feel. A toy for a puppy is a very special gift, as they become very attached to their things over time.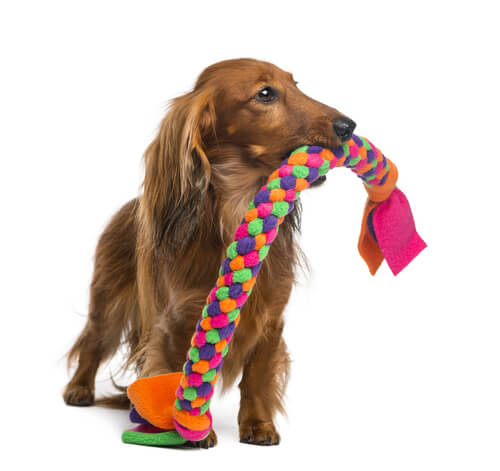 In the case of adult dog toys, they also play a very important role. They strengthen the relationship between the master and the can, at the same time adding novelty to their routine by presenting them with a new tool to have fun with .
Choose a teether for your dog that pleases you
Most of the time dog owners go blind shopping without knowing for sure whether the toy will please your dog or not; therefore, it is important to know the tastes of the dog well to try to find the ideal toy.
Currently there are several categories in which you can choose:
Search toys: like balls or a frisbee that keeps the dog entertained and physically active.
Biting Toys: These types of toys are special to keep dogs entertained or to soothe the feeling that puppies have on their gums when they grow their teeth. Choose one of durable material so that your dog can enjoy it for a long time.
Shooting toys: usually, ropes with knots at the ends for dogs to compete, but they can also be used by the master and dog to train and teach him orders.
Toys to develop their intelligence: These toys keep the mind of our dogs agile and stimulated while offering them a reward; it is important that the master supervise the dog while using this type of toys.
No matter what kind of toy you choose, the most important thing is that the dog enjoy it and make it more fun and fun to your time at home and with your master.