Old Suitcases That You Can Recycle As A Bed For Your Dog
You got a little dog, and then the last time you went on a trip and checked in the suitcase, he just took a chrome? Don't you dare throw it away! You can recycle it as a bed for your dog. Between
"bricomania" and the Leroy Merlin, we all know a little DIY. And that's all it takes to turn an old suitcase into a great bed for your pet. With wheels, without wheels, with handles, without lid, taking advantage of the lid… No matter what the suitcase is, with a little skill and inspiration, you can create a comfortable and creative bed for your faithful friend.
How do I make a bed from a suitcase?
If you have an old or spoiled suitcase, it can be divided in half and used as a dog bed, with a cushion or blanket. Or even keep the lid and use it open . This way, you can decorate it. As a support you can use old office chair legs, a coffee table for throwing or even four baseball or tennis balls (attached to the suitcase, of course. We do not want the dog to fall). The legs better isolate you from the cold because the suitcase is not in direct contact with the ground.
If the suitcase is very large, it can be worth several dogs. In addition, if we have several animals (and several suitcases) they can be placed on top of each other, separated by sticks, or bowling or whatever you can think of, as if they were a bunk bed. Something similar can be done with a drawer or even with the wooden boxes where wine bottles or fruit bottles come, conveniently painted to look nice.
What can I do to decorate the suitcase?
Besides painting or decorating the suitcase outside, you can hang curtains to the lid to give it a more classic touch, some flags of different colors, make some pockets in the lid sewing another fabric to store the toys of the animal… You can also fill the bed with cushions and small pillows, make her a little crochet blanket, place her name or initials on the lid or on the edges of the suitcase, or put a picture or a picture of you.
In addition, the most handymen can even create the pet's own cushion, to give it a more homely touch. To do this, measure the basket, suitcase, drawer, box, TV or whatever you are going to use as a base for our furry friend's bed. Choose a soft and easy to wash fabric. Cut out the fabric so that it is one centimeter wider than the bottom of the bed. (If you don't know how to sew, put three centimeters just in case).
Cut another fabric of the same size. On the edge (leaving a few millimeters to hold well) place a few pins holding the fabrics together on three sides. Sew them by hand or machine (from the side that will be inward), as you prefer. On the fourth side (or a third of the circle, if the base is round), sew a zipper. Please note that the seams are inside the cushion, so sew the zipper upside down (with the "handle" to the opposite side you are sewing). Then the fabric is turned over (inside out) and stuffed. And you already have a cushion of whatever fabric you want.
What are the advantages of recycling suitcases as a bed for my dog?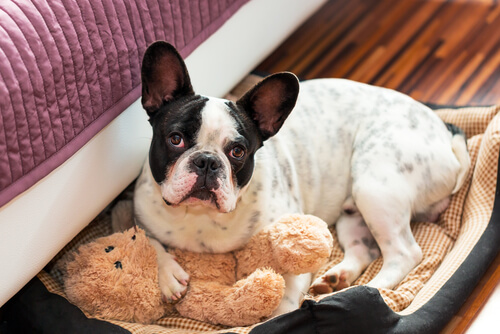 Thanks to our consumerist mentality, this society tends to spend and spend money, sometimes unnecessarily, and to grant itself any whim. When we have a puppy or a dog we pamper him so much, that many times we buy him the most expensive and beautiful things on the market, when we can have them at home or build them ourselves recycling. Therefore, the first advantage is savings.
The second advantage is that thanks to these beds, you can give your home a vintage or modern touch, depending on your tastes. In addition, they will be the color you want and the size that best suits the corner you had thought for them, since by making them you can adapt them as you want.